Catching Stitches
Posted by Keri Anguiano on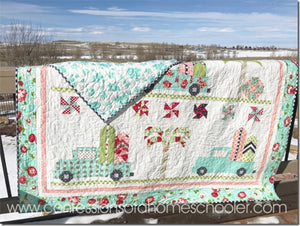 We are so excited to get this Vintage Summer Quilt Along kicked off on April 1, 2019! I think it is perfect timing for this Quilt Along as it wraps up in early May and in plenty of time to use your quilt all summer long! You may be asking, "What is a Quilt Along?" In our case it is just a group of people who will be sewing the same quilt at the same time and posting our progress on Instagram or other social media!  It's always fun to motivate each other and see all the finished blocks popping up!...
Posted by Keri Anguiano on
We are so excited to be kitting Erica Arndt's Vintage Summer Kits.  This is the last season to be released in her collection and each one has been just as cute as the one before.   This quilt features darling Vintage Trucks with all the elements of summer!  We are so grateful to work with Erica in kitting these kits and the rest of her Vintage Truck patterns.   The kit is composed of mostly Little Snippets Fabric by Bonnie and Camille that released in January 2019.  Some Bonnie and Camille Smitten, The Good Life, and Bonnie and Camille Basics...